New Delhi, Feb 13 (TOI) – The Indian government has revised its COVID guidelines for international arrivals. The country has decided to do away with the at risk category of countries. India has recommended self-monitoring for 14 days for sympto ms, instead of the previous rule of home quarantine for 7 days.
The new guidelines for international travellers will be followed from February 14, Monday.
Subscribe to our Telegram channel for the latest updates from around the world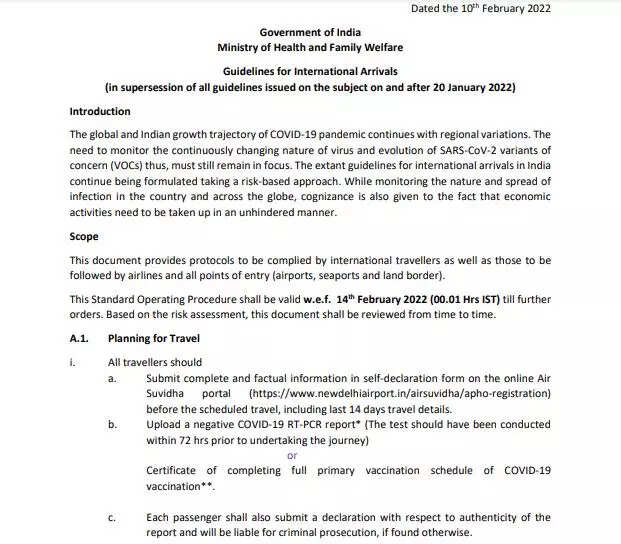 However, according to the Ministry, there is a need to monitor the continuously changing situation. The Ministry has also said that economic activities must be taken up in an unhindered manner. Passengers will need to upload RT-PCR negative report, which must be taken 72 hours before the journey. Moreover, passengers will also have to upload fully-vaccinated certificates and schedules.
A self-declaration form available at Suvidha Web Portal needs to be filled out by passengers, along with their history of travel, going back to 14 days.
An alternative to uploading the RT-PCR report is a certificate that confirms that the passenger has received both the vaccines. This option is only available for passengers arriving from select 72 countries. The vaccine programmes for these countries have been recognised by the Indian government.
Passengers should keep in mind that there will be a random sampling of about 2&% of the international travellers at the airports. Travellers will have to give their samples, and then they may leave the airport.
For similar articles, join our Telegram channel for the latest updates. – click here