October 24 (The Times of India) – Mobile users in India have mostly forgotten to keep a check as to how much data they are spending, thanks to cheap unlimited data plans. In fact, India has the cheapest mobile internet plans in the world. Getting 2GB of 4G data per day by spending less than $5 a month is standard in the country. You can even get 3GB data per day if you decide to spend just $1 more monthly.
Super affordable mobile internet is one of the key highlights in the digital journey of India. While you may struggle to finish 2GB or 3GB mobile internet data on a daily basis there is no denying that you still need to connect to a reliable Wi-Fi connection while playing games or watching high-resolution videos. This is because there may be ample mobile data but the speed is limited.
If you use any tool to check the speed of your mobile internet data plan then you will be surprised to see the high 'claimed' speed. But just play one video on YouTube in 720p or 1080p then the reality of this 'claimed' high speed mobile internet becomes clear. This is the common story for all telcos in India in general. In some locations, you may get good speeds while in others you may struggle to even refresh your Facebook page. And most users have given up on complaining to customer support as the standard bot reply is of little.
India's ranks 131 in mobile data speeds; Lags behind Pakistan, Nepal, Sri Lanka
The fact that more data is not equivalent to a better speed is even highlighted by Ookla's Speedtest Global Index. As per September 2020, India ranks 131 out of 138 in the global mobile internet speed rankings. While the global average download speed is 35.26 Mbps (megabit per second), India lags at just 12.07 Mbps. The global average upload speed and latency is 11.22 Mbps and 42 ms, India lags at 4.31 Mbps and a higher latency of 52 ms.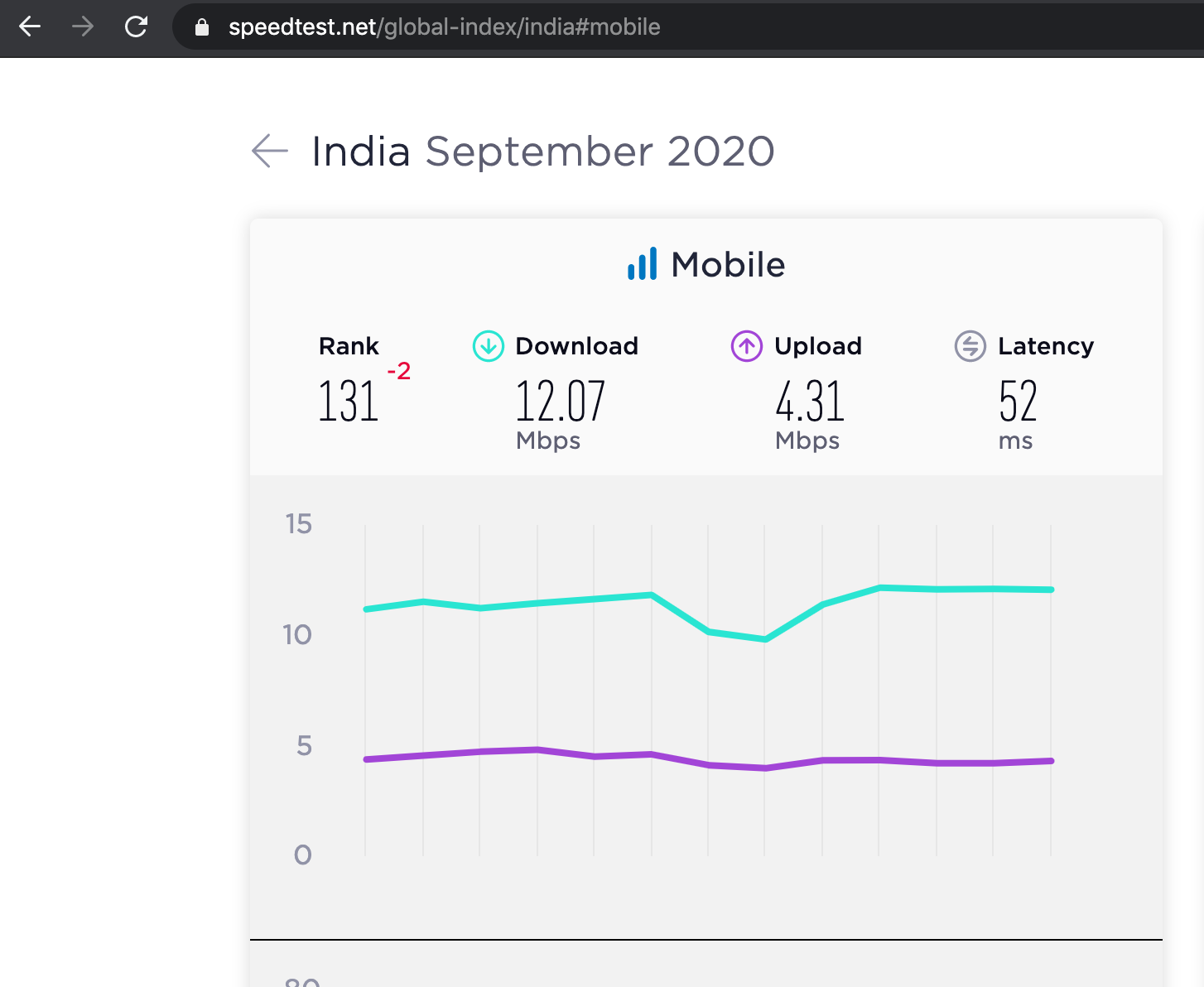 South Korea topped the list with an average mobile internet speed of 121.00 Mbps. This is double the average fixed broadband speed in India, which lags at 46.47 Mbps, as per Speedtest Global Index– September 2020 data.
Neighbouring countries like Sri Lanka, Pakistan and Nepal rank higher than India in the global in the index. While Sri Lanka ranks 102nd with a speed of 19.95Mbps, Pakistan is at 116th spot with 17.13 Mbps. Nepal occupies 117th spot with a speed of 17.12Mbps.
How much mobile internet data do you actually need daily?
While unlimited data is highly welcome, you may not need so much especially if you are relying on your home Wi-Fi for online classes, gaming and watching videos.
Here is how much mobile internet data is consumed on average on an hourly basis:
| | |
| --- | --- |
| Activity | Data consumption |
| Playing Call of Duty Mobile for 1 hour | 35MB |
| Watching YouTube videos at 360p resolution for 1 hour | 280MB |
| Watching YouTube videos at 720p resolution for 1 hour | 600MB |
| Watching Facebook videos for an hour | 300MB |
| Watching a movie on low resolution on Netflix (1.35 hours) | 650MB |
| Google Chrome (2 hours) | up to 150MB |
Why are better speeds more important than unlimited data?
Content creators are already posting 4K videos on YouTube but if you hit the play button, in all probability and at most places, it may take forever to load. Also, for telcos to lure users to spend more on data, they will have to improve speeds.
The maths is simple. If you are able to smoothly play a 4K video on your phone then your 2GB data will be exhausted in an hour. This may make you buy more data, thus helping telcos boost average revenue, commonly called ARPU. Also, people will get the option to choose between watching 360p and 4K videos if they know their mobile internet speeds will be able to support it.