Feb 15 (BBC) – Inflation in the US has cooled for a seventh month in a row, but prices continue to rise far more quickly than is considered healthy.
Inflation, the rate at which prices rise, was 6.4% in the 12 months to January, driven higher by jumps in housing, food and energy costs.
Subscribe to our Telegram channel for the latest updates from around the world
That was down just slightly from 6.5% in December.
Officials have warned that it will take time to stabilise prices, despite recent signs of improvement.
Among food prices, the cost of beef has fallen from a year ago. But egg prices are up 70% compared with January 2021, while butter and margarine costs have jumped by nearly a third.
Prices for televisions, smartphones and used cars and trucks have fallen compared with a year ago.
However, housing costs – one of the biggest components of the price index -have climbed more than 7%,driven by higher rents, and prices of services such as haircuts continue to rise rapidly.
The US central bank, the Federal Reserve, has responded to the problem by aggressively raising interest rates, a move intended to cool the economy and ease the pressures pushing up prices.
But the jobs market has remained more robust than expected, fuelling intense debate among economists about how high borrowing costs will have to go to return inflation to the 2% rate considered healthy – and whether the economy can handle the increase without tipping into a painful recession.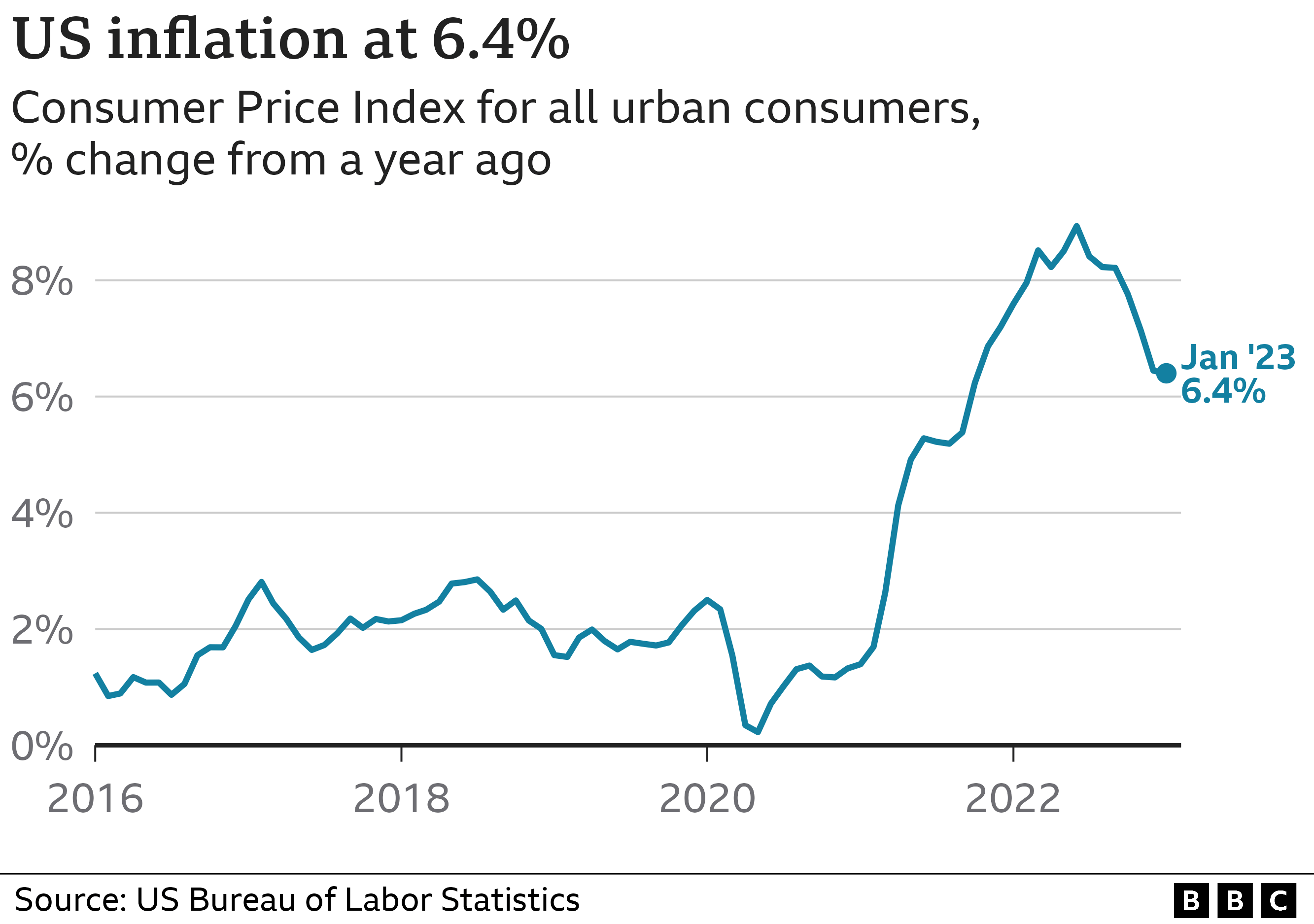 The latest news on inflation is likely to keep the Federal Reserve on a path of higher interest rates, analysts said.
"Disinflation is continuing, but at slower pace than the Fed might like," said Ronald Temple, chief market strategist at Lazard. "To pause the tightening cycle, the Fed will need to see more muted price gains and less tightness in the labour market. The wait for both is ongoing."
Prices in the US took off in 2021 as the economy roared back to life after pandemic lockdowns. Companies that were facing shortages and rising costs increased their prices.
The war in Ukraine, which hit food and energy supplies, made the problem worse, sending inflation to 9.1% in June – the highest rate since 1981.
Those forces have since cooled. Analysts said recent data suggests that the surge in rental rates – which show up in the government's report at a lag as people renew their leases – may also be receding.
But many companies have continued to raise prices, citing higher costs.
The cost of petrol, known as gasoline in the US, also ticked higher in January, though it is below last year's record highs.
"While inflation is heading in the right direction, there is a long and bumpy road ahead to price stability," said Andrew Patterson, senior economist at Vanguard.
For similar articles, join our Telegram channel for the latest updates. – click here