Aug 20 (BBC) – The rising cost of renting has again hit its highest level since comparable records began in 2016, with strong demand from tenants.
With fewer properties available to rent in many areas, the mismatch between supply and demand has pushed up costs for many people.
Subscribe to our Telegram channel for the latest updates from around the world
Prices paid by UK renters rose by 5.3% on average in the year to July, the Office for National Statistics said.
The figures come as rising prices continues to squeeze household budgets.
The inflation rate, which measures how the cost of living changes over time, fell to 6.8% in the year to July. Although this was down from 7.9% in June, it is still far above the Bank of England's target of 2%.
High demand from tenants at the same time as landlords reducing the number of available properties is one of the key reasons behind the rent increase.
Competition among renters is so intense that there are 20 requests to view each available property, according to recent figures commissioned by the BBC from property portal Rightmove, up from six in pre-pandemic 2019.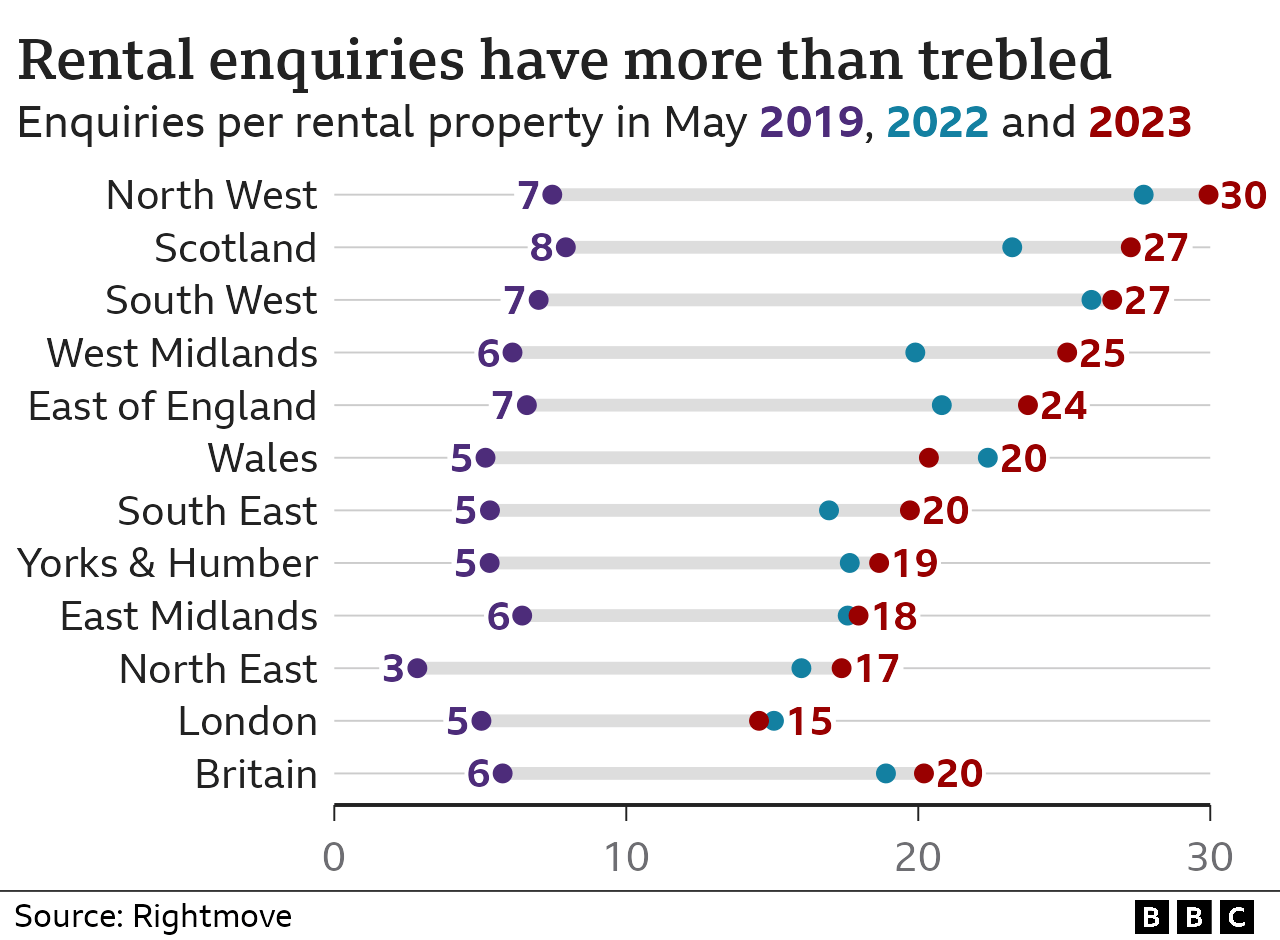 The latest data from the Office for National Statistics (ONS) shows UK average annual rent increases accelerated to 5.3% from 5.2% the previous month.
There was a 5.5% increase in rents in London, which was the only region where house prices had fallen. This was the sharpest increase in rent since comparable records began for London in 2006.
The same annual rent rise was recorded in the West Midlands as well as Yorkshire and the Humber.
There were even bigger rises for tenants in Wales, where the average was up 6.5% in a year, and in Scotland (up 5.7%). In Northern Ireland, where the data is collected slightly differently, there was a 9.2% increase in the year to May, although this was lower than a previous peak.
Tom Bill, head of UK residential research at estate agency Knight Frank, said: "The squeeze on tenants will not end any time soon."
He said that there was more financial pain for tenants as the supply of rental property fell and rents rose.
"It is an imbalance compounded by the fact landlords now face higher mortgage rates," he added.
Official data on wages and inflation have led analysts to suggest that there could be further rises in the Bank of England's benchmark rate, which would mean ongoing pressure on landlords and homeowners through relatively high mortgage rates.
Average UK house prices increased by 1.7% annually, down from a revised 1.8% rise in May, the ONS said, as the market cools as a result of the mortgage rate hikes.
How can you get to the front of the renting queue
Agents say there are some simple ways to make it easier to secure a rental property, including:
Start searching well before a tenancy ends and sign up with multiple agents
Have payslips, a job reference, and a reference from a previous landlord to hand
Build up a relationship with agents in the area, but be prepared to widen your search
Be sure of your budget and calculate how much you can offer upfront
Be aware that some agents offer sneak peeks of properties on social media before listing them
For similar articles, join our Telegram channel for the latest updates. – click here