Jan 18 (TheNationalNews) – Mrs UAE and Mrs Jordan wowed judges at the Mrs World beauty pageant on Saturday, narrowly losing out on the crown to Mrs American Shaylyn Ford.
Debanjali Kamstra, who was representing the UAE for the first time in the pageant's history, was named second runner-up, with Mrs Jordan Jaclyn Stapp finishing as first runner-up at the glamorous event in Las Vegas.
For similar articles, join our Telegram channel for the latest updates. – click here
Ford beat 57 other contestants for the title and was crowned by the reigning Mrs World, Kate Schneider, who was Mrs Ireland World.
The pageant featured the traditional displays of national costumes, swimwear, eveningwear and a series of interview questions to test contestants' personalities and public speaking skills, in which Kamstra and Stapp spoke about their charitable efforts in the Middle East.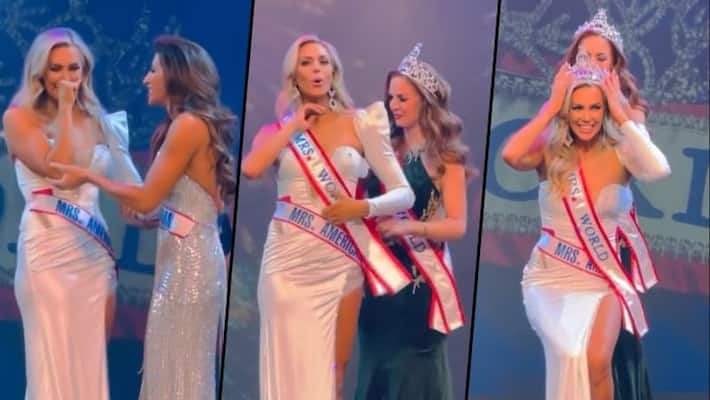 The new Mrs World
Ford stunned judges in a stunning one-sleeved evening gown, split to the thigh, with her blonde locks tumbling around her shoulders.
The charity executive director has been married for seven years to her pastor husband and the couple have three children together.
Ford, 37, from Granville Ohio, was crowned Mrs American at the annual Mrs American pageant on November 19, 2021.
When asked about her plans for the pageant's Beauty For Good and Victoria's Voice charities as Mrs World, Ford said: "I've already started. My first meeting is on Monday with the Beauty For Good team and I'm so excited to get some victory clubs going in our state.
READ: Watch: Pat Cummins wins hearts by calling Usman Khawaja to celebrate with team; holds champagne shower
"I've worked with a lot of our state queens and we want to continue expanding the programme.
"I am so excited to be partnering with [drug charity] Victoria's Voice and Beauty For Good, and I think we can make a real change.
"I have had opioid addiction hit my own family. I've lost people who I love and I'm very passionate about taking this forward.
"Together I feel we can take massive ground and I can't wait to do it."
Subscribe to our Telegram channel for the latest updates from around the world