November 14 (BBC) – The moment that Kamala Harris celebrated the news she would be the next vice-president – captured on camera for posterity – was history making three times over. Come January, she will become the first female, first black and first Indian American vice-president.
But the person behind the camera will be making history too. Ms Harris's husband, Douglas Emhoff, will become the country's first second gentleman. He was already the first male spouse, at all, on a winning presidential ticket.
The 56-year-old has so far seemed to relish his role as a political partner. He became a star surrogate during Ms Harris's own presidential bid, and often refers unironically to the #KHive – the name for Ms Harris's most dedicated supporters. His social media feeds resemble unofficial fan pages for his wife.
In August, Mr Emhoff announced a leave of absence from his legal career to support the Biden-Harris ticket full-time.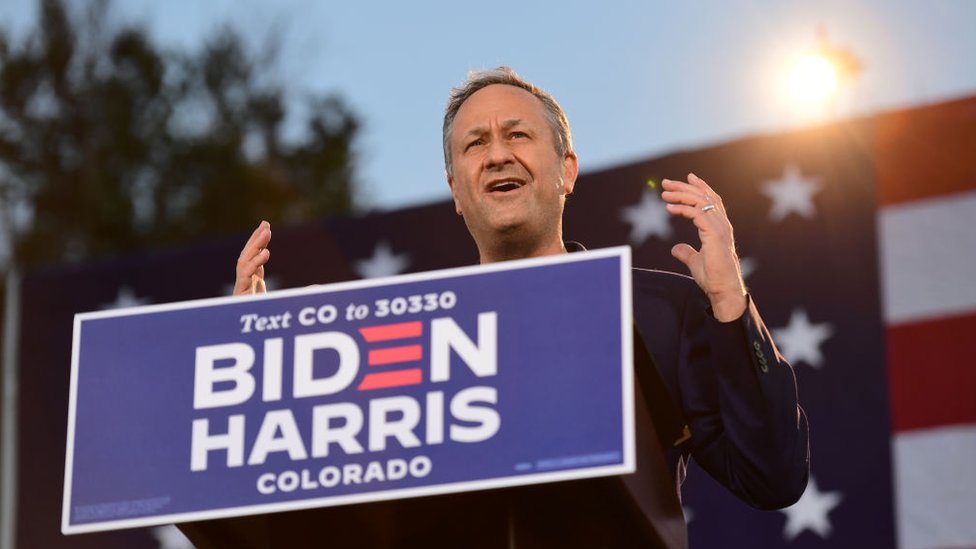 "He does seem to have really taken to it," said Aaron Jacoby, a longtime friend and former legal partner of Mr Emhoff. "You could expect him to be a fish out of water – he's not. He's just swimming and enjoying it."
Now, as the Biden-Harris team prepares for their move to the White House, how Mr Emhoff takes on his role may signal a step forward for gender equality, as well as the distance left to go.
In 2013, Mr Emhoff, then a Los Angeles entertainment lawyer, was set up on a blind date with then-California Attorney General Kamala Harris.
A nervous Mr Emhoff left Ms Harris a rambling and "really lame" voicemail trying to arrange their first meeting, he said.
They met for dinner and the very next day, Mr Emhoff emailed her with all his available dates for the next few months to come, Ms Harris wrote in her 2013 memoir, The Truths We Hold. "I'm too old to play games or hide the ball", he said. "I really like you, and I want to see if we can make this work."
Less than a year later, they were married at the Santa Barbara courthouse, in a ceremony that paid tribute to both her Indian heritage and his Jewish faith. Ms Harris saved that first voicemail and plays it every year on their anniversary.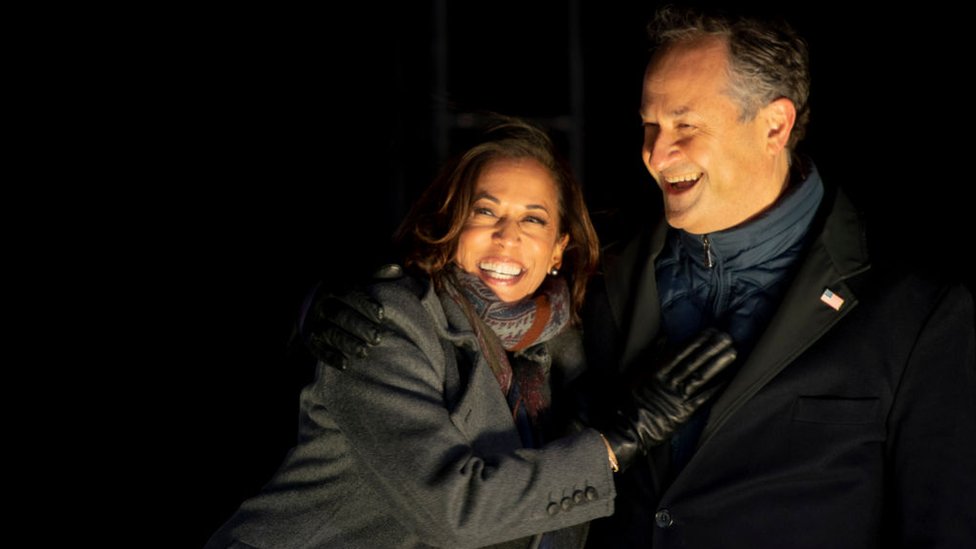 Through their marriage, Ms Harris became a stepmother, or "Momala", to Cole and Ella, Mr Emhoff's children from his first marriage to Kerstin Emhoff, the co-founder and chief executive of production company Prettybird.
Ms Harris has said it was meeting Cole and Ella that ultimately "reeled [her] in". Likewise, for the Emhoff kids. In an interview with Glamour magazine this year, Cole, 26, said that meeting Ms Harris "for all of us… was love at first sight".
Mr Emhoff and his first wife are famously friendly. "We remain incredibly close", he said in an April interview with Chasten Buttigieg – husband of former presidential candidate Pete Buttigieg. And Ms Emhoff and Ms Harris get along "amazingly", he said.
During Ms Harris's own bid for president, Ms Emhoff – who frequently tweets her support for the Harris-Biden ticket – lent her creative services to the campaign.
"They were like, 'the ex-wife wants to do what?'" she told Marie Claire in October.
Now, on the trail, in interviews and across social media, Ms Harris and Mr Emhoff seem to be a genuinely happy couple.
"What you see is what they're really like, this is not an act," said Alex Weingarten, a long-time friend and former colleague of Mr Emhoff. "They are incredibly loving and affectionate with each other. It's unmistakable… how really in love they are."
Mr Emhoff experienced his first real campaign as a political spouse when Ms Harris ran for Senate in 2016. But that campaign, he said, didn't prepare him "at all" for the magnitude of his wife's presidential bid.
In January 2019, Ms Harris officially launched her campaign to a crowd of more than 20,000 in Oakland, California."I'm out there waving, I'm freaking out… we thought there'd be 5,000 people there," Mr Emhoff said about the day.
In the months to come, Mr Emhoff would work at his law firm during the week, and on weekends be dispatched across the country – increasingly without Ms Harris – as her surrogate.
While his wife, the candidate, was given briefing books and staff, he would just "roll out and do it", he said. "It was really trial by fire."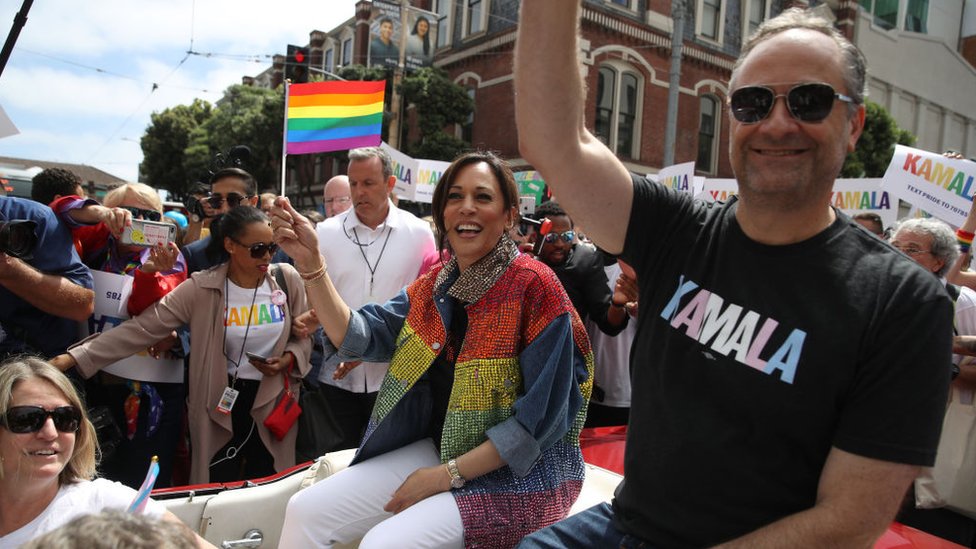 Recounting his time on the trail, Mr Emhoff often becomes most animated talking about the campaign's smaller events – naming one in Flint, Michigan, another in rural Nevada. He'd come back to the Harris campaign with his self-styled "notes from the field" recounting whom he had met and what he had seen.
"You just get overwhelmed because you just want to help all these folks and help the campaign," he said.
In June of that year, Mr Emhoff earned online attention after leaping on stage at a presidential forum to defend Ms Harris from a protester who had grabbed the microphone out of her hands. Footage of the incident showed him pulling himself up on stage from the front row, before wrestling the microphone back for his wife.
Mr Emhoff befriended a number of the Democratic candidates' spouses, becoming particularly close with Mr Buttigieg – who was the first person to text Mr Emhoff when Ms Harris dropped out. Through a representative, Mr Buttigieg declined to be interviewed for this story.
Mr Emhoff's lack of political experience has not been a hurdle on the trail.
"I think while it may have surprised him or any of us that he's been thrust into the political spotlight – it actually is perfect for his personality," said friend and colleague Aaron Jacoby. "He really is that happy, engaging, supportive person that you see."
In interviews, he seems laidback, relaxed, typically Californian. He's partial to the words "amazing", "surreal" and "awesome". He calls himself a dude, as in – "I was a dude… then I met Kamala".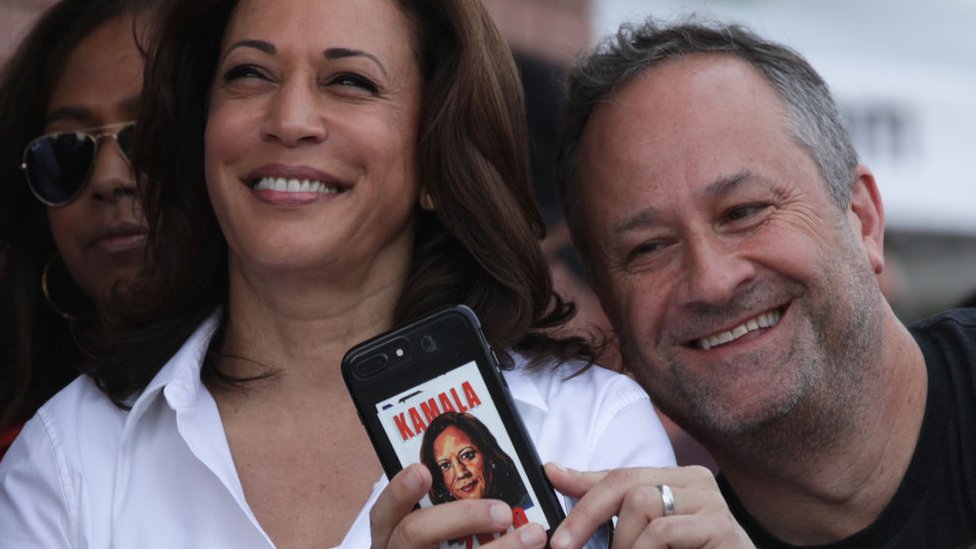 Asked to describe Mr Emhoff, both Mr Jacoby and another long-time friend, Alex Weingarten said he was "authentically Doug".
"He's just a good dude," said Mr Weingarten. "I think it all came very naturally to him, because Doug is naturally a people person."
He has also become an "incredibly forceful advocate" for the Biden-Harris ticket, Mr Weingarten said, a role suited for the experienced litigator.
Mr Emhoff and Ms Harris have their legal degrees in common, but while his wife went straight to work as a state prosecutor, the incoming second gentleman entered a nearly 30-year career in corporate law.
During this time – in addition to business and real estate disputes – his clients have included the pharmaceutical company Merck, in cases alleging one if its products caused bone disease and the arms dealer Dolarian Capital. And while Mr Emhoff was not personally registered to lobby, his most recent firm DLA Piper, has an active lobbying practice in Washington.
Perhaps heading off possible conflict of interest charges, the Biden campaign announced this week that Mr Emhoff would be leaving DLA Piper, "to develop the portfolio he will focus on to support the work of the administration".
Mr Emhoff is the fourth husband of an American presidential or vice-presidential candidate – following the husbands of Geraldine Ferraro, Sarah Palin and Hillary Clinton.
But he is the first and only to make it to the White House – a position so new that it does not yet seem to have an official name.
"No one has told me! I don't know," he said to Marie Claire in October.
Held only by women, "this role has been very gendered", said Barbara Perry, the director of presidential studies at the University of Virginia's Miller Center.
It's also largely ceremonial. Previous first and second ladies have typically adopted uncontroversial agendas, complementary to their husbands' administrations.
While George Bush pushed education policy, Laura Bush advocated for children's literacy. Barack Obama championed health care, and Michelle Obama promoted exercise and healthy eating.
Second ladies receive even less attention – Jill Biden focused on military families and education during her tenure – but Ms Harris's historic and high-profile candidacy will bring notice to her husband. As vice-president, Ms Harris will preside over the Senate, leaving Mr Emhoff in charge of convening lunches and events for the senators' spouses.
Having Mr Emhoff take on what has been an exclusively female role, "is the first step towards true equality for political spouses," Ms Perry said. "We're unused to having men give up their careers for their wives, spouses and families," she added, citing global studies that show the brunt of domestic work still falling on women.
Asked if Mr Emhoff was aware of the discussions regarding gender roles, Mr Jacoby laughed.
"Everybody is aware of it," he said. "It doesn't really matter. He will be engaging, and fun and social, at the same time he will get a concrete result at whatever the goodwill building assignment is."
In terms of his actual focus, criminal justice reform is a likely candidate, reflective of the second couple's interests and careers. But both Mr Jacoby and Mr Weingarten insisted that their friend's primary focus would be on the vice-president.
"Doug is in this to support Kamala," "There's obviously some novelty… that Doug is the first dude," Mr Weingarten said, adding that Mr Emhoff would be an "exceptional role model".
But, he said, "the story is that [Kamala] is going to be vice-president".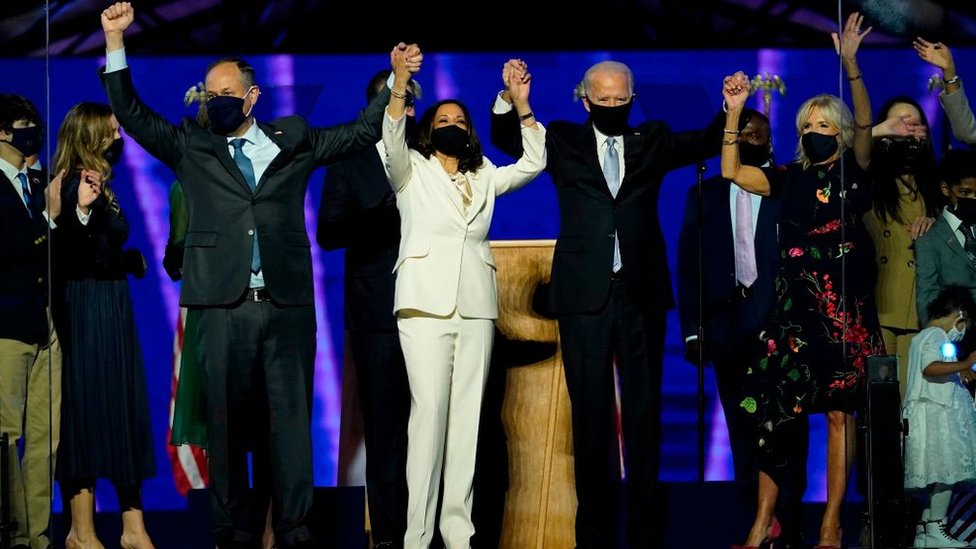 The fanfare and media attention attached to Mr Emhoff may be largely because of the novelty of the male political spouse. But it may also point to a lag in gender equality. Second ladies have rarely received the same volume of applause before even starting their new jobs.
Some first ladies have been embraced and adored by the American public. Michelle Obama, for example, often received better popularity ratings than her husband and later sold out arenas on a global book tour. But first and second ladies abandoning their careers to becoming full-time political spouses – like Mr Emhoff – has mostly been taken for granted.
"We're giving him extra credit for what women have done for centuries," Ms Perry said.
She's still optimistic about Mr Emhoff, however, and his potential for challenging gender norms.
"There would have been very traditional macho men who would not have wanted to be that supportive," she said. And maybe we don't hear about their wives advancing like Ms Harris, Ms Perry said, because they lack the same support from their spouses.
"I would make Douglas Emhoff an honorary woman," she said. "I hope he would take that as the compliment that it's meant to be."