July 4 (BBC) – The number of people being admitted to hospital with Covid is expected to rise further, the chief executive of the UK Health Security Agency has said.
Hospital cases and infections are down on earlier highs but Dame Jenny Harries told the BBC there could still be an impact on treating other patients.
For similar articles, join our Telegram channel for the latest updates. – click here
Her warning comes after figures showed UK Covid cases jumped by 32% in a week.
Dame Jenny said people were being encouraged to "go about their normal lives" but in a "precautionary way".
In England, almost 9,000 hospital beds were taken up with Covid patients on 30 June, a doubling of admissions since the start of the month. Data from the other UK nations is not as up to date but suggests a similar rise in June.
The latest rise in Covid infections – by about 500,000 cases last week according to survey data by the Office for National Statistics – is being driven by two new fast-spreading sub-variants of the Omicron variant, called BA.4 and BA.5.
An estimated 2.3 million people or one in 30 has the virus.
Dame Jenny told the BBC's Sunday Morning programme: "It doesn't look as though that wave has finished yet, so we would anticipate that hospital cases will rise."
She said it is "quite likely" numbers in hospital would peak above where they were in the spring when the BA.2 sub-variant was prevalent but "the overall impact, we won't know. It's easy to say in retrospect, it's not so easy to model forward".
She added: "For this particular wave we have some evidence there may be some slight reduction of the effectiveness of vaccines on variants, but they are still maintaining the majority of people, keeping them safe from severe disease and out of hospital."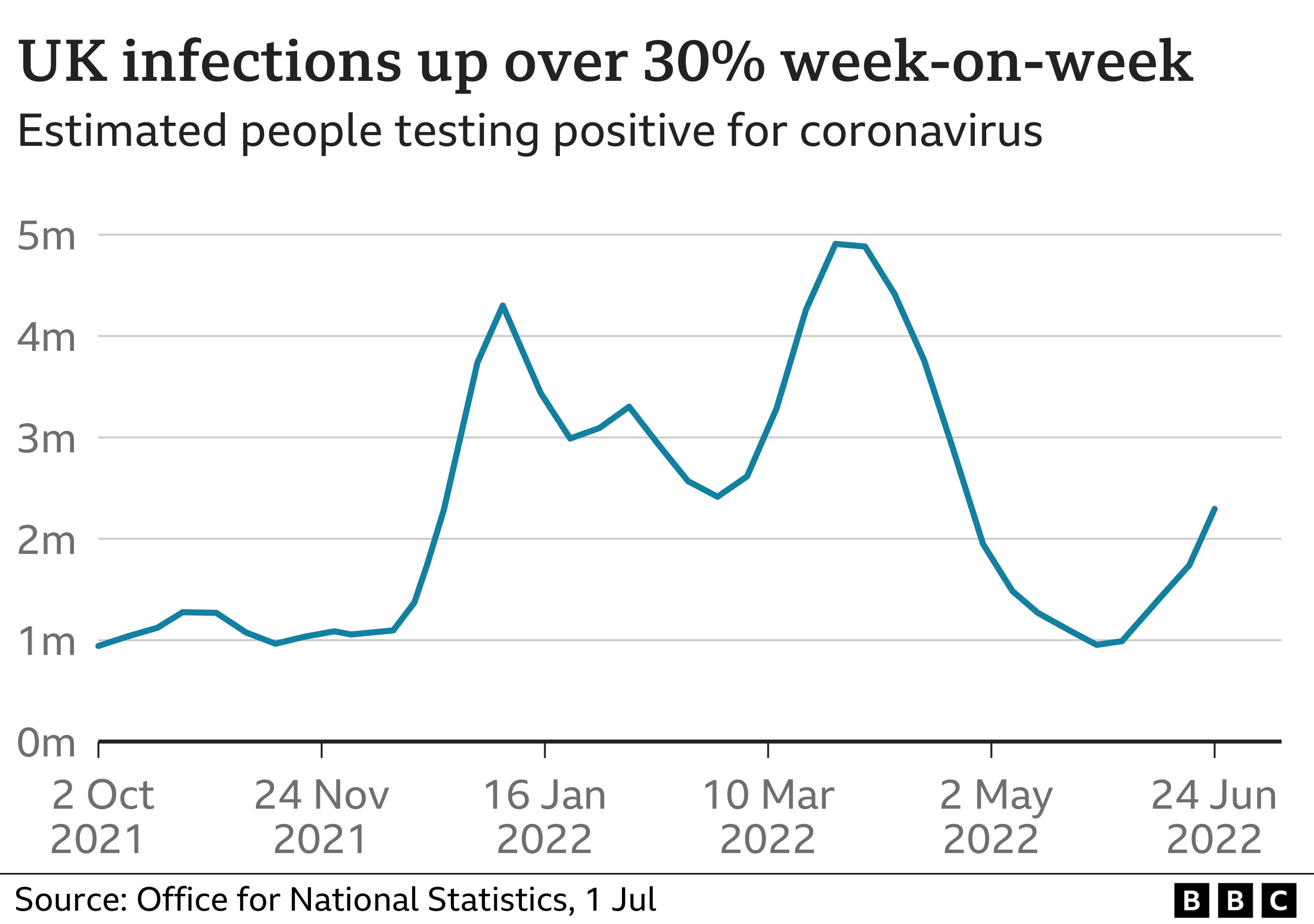 Dame Jenny said people should continue to follow "sensible precautionary advice" – highlighting handwashing, keeping a distance from others where possible and wearing a face covering in enclosed, poorly ventilated areas.
And people with Covid symptoms should stay at home, she said.
Subscribe to our Telegram channel for the latest updates from around the world